Exclusive to Disney Cruise Line's guests this 5K run is another fun activity for the whole family offered by Disney at their private island Castaway Cay.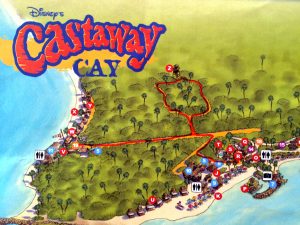 How and Where do I sign up for 5K?
Adults must sign up at the Guest Services at anytime when you board Disney Cruise until the night before the ship docks at Castaway Cay. A ticket will be handed out for every member of the family (10 years and over) that is participating in the 5K run. It is free of charge and contains important informations like, the time and venue where you will all gather and meet with the other runners. These infos will also be indicated in your daily Personal Navigator, it is important to check it in case there's any changes in time and venues.
At the time of check-in a photo ID and KTTW card will be required, so remember to bring them. Then a bib will be handed out to all runners registered. Other members of the family and friends who are not participating in the 5K run can join their family members who are running. 5K runners, their families and friends will be the first to go down the ship as soon as they receive clearance from Castaway Cay.
For those families who have small children, you can drop off your children at the Scuttles Cove, it is the kids club on the island just like the Oceaneer's Club/Lab.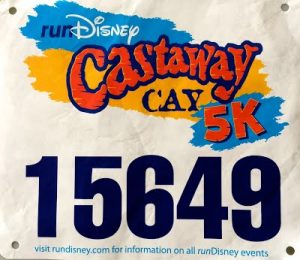 What are the routes for the 5K run?
Once all the bibs are given and check-in are done, the 5K run director will come out and will give an instruction on the route you will take at Castaway Cay. The run will start at the Bike Rental area, there's a big bin where you can all drop your personal belongings before the run. The route varies… when we did the 5K run we were instructed to run the bike loop twice, then straight the air strip towards the Serenity Bay, and head back to the finish line at the bike rental where we started.
All runners, their families and friends are usually off the ship around 8:30am and have a nice brisk walk towards the Bike Rental area where the starting line is. There, they will show you again your route for the 5K in a large map. There will be several water stops throughout the course. **Please do not toss your cups on the bushes or the ground, there are trashcans for that.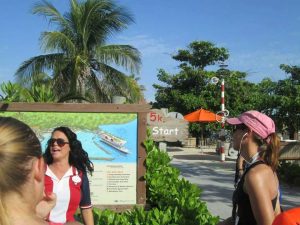 When you get to the finish line, there will be a Cast Member waiting for you handing out medals to all runners, and a photographer that will take your finish photos.