Submitted by Fred Folsom
We've cruised Disney Cruise Line (DCL) in a non-concierge stateroom before and were treated like royalty, and I truly didn't think it could get any better, but I was so wrong! From the minute we arrived at the port, to the minute we returned to the bus after the cruise, any and everything we needed was taken care of by the either the shoreside concierge staff, or the concierge cast members (CM) on board. Here are just a few of the things waiting for you when you Cruise Disney, Concierge style:
Shoreside Concierge Service. When you reserve a concierge stateroom, and pay the cruise fare in full you will be able to engage the shoreside concierge services offered exclusively to Disney Cruise Line's Concierge cruisers. Any and all shipboard and port excursions, including Cabana can be requested through this convenient service beginning 125 days prior to your sail date via a toll-free number 1-866-784-1654 available Monday through Sunday, 8:30 a.m. to 5:30 or email: dcl.concierge.services@disneycruise.com. Then once the 120 days out comes at exactly 12:01 am the concierge team/computer system automatically books all your request so you don't need to stay up till midnight.
Providing personalized assistance in helping you plan every cruise detail, including:

Port Adventures, Palo and dining, spa treatments and nursery stay reservations, and the coveted Castaway Cay Cabanas
Dining room seating preference requests
Special occasions and celebration planning
Assistance with all special requests, from before your arrival until after you cruise

No specific port arrival time. Concierge cruisers are afforded the flexibility to arrive at the port whenever they like (before 3:45 p.m.) to check-in. There's a separate area in the Disney terminal for concierge cruisers to check-in, sit down and relax before boarding.
Once your party is welcomed on board, concierge cruisers receive a personal escort to the twelfth floor by a Disney cast member, where they are welcomed into the Concierge Lounge by a Concierge CM. There, your family will be able to relax even more with lunch, sodas/juices for the kids and alcoholic beverages for the adults in your party. A concierge CM will then review your itinerary with you and afford you all with an opportunity to make any desired changes (i.e. add a spa treatment, alter or add Palo or Remy dinner reservations, etc).
Access to the Concierge Lounge. As a Concierge cruiser, you'll enjoy the benefits of the ship's Concierge level special services and exclusive access to dedicated areas on the ship. The Concierge Lounge is centrally located amongst the Concierge Suites on Deck 12 (Disney Dream & Fantasy only). In a stylish, modern setting, guests can relax in quiet comfort, sip a cocktail, access the Internet, watch news on a large-screen TV and enjoy complimentary food and beverages offered throughout the day. From the lounge, Concierge cruisers have their own private entrance, an exclusive Concierge-only sun deck where they can soak up the sun in their exclusive onboard oasis. Enjoy tranquil breezes, cooling water misters, cushioned lounge chairs and a bar stocked with water and refreshments.
Concierge level staterooms are usually ready for their guests at noon, after which your cruise really takes off.
Personal attention from the concierge CMs . . . meeting the family, finding out if you have any particular needs/requests (i.e. – food allergies, etc.). By the end of the first day of your cruise they will know the names of everyone in your party and really make you feel welcome and like you're at home.
Food in the concierge lounge from 7 a.m. – 10 p.m. every day!
Non-alcoholic drinks available from 7 a.m. – 10 p.m. every day, including access to the best coffee machine on the ship!
Happy hour in the Concierge Lounge with free alcoholic beverages from 5 p.m – 10 p.m. every night!
Unlimited bottled water (even Perrier) and cans of soda and juice available to take back to your room fridge from the concierge lounge.
Private meet and greet with a character on the concierge sundeck or inside in the lounge (depending on the weather). On the Magic it was held in O'gills.
No waiting in lines at guest services. Everything can be taken care of in the concierge lounge by a cast member from 7 a.m. – 10 p.m., including booking your next cruise.
Bags need to be put out by 10:30 p.m..
Personal escort back into the port terminal bypassing any lines.
The concierge bags are staged in a separate section of the baggage claim area, making them a little easier to find (if applicable). Concierge cruisers can also hand carry their bags off the ship if they prefer.
There are some other neat surprises as well, which we will not spoil for you. Cruising Disney is already on another level when compared to the other cruise lines (in my opinion), and the Disney Concierge Level service kicks that incredible cruising experience up yet another notch. So for me and my family, yes it is worth the extra cost, but you'll get a different answer depending on who you ask. You do need a flexible budget – yes. And I would not recommend taking out a loan or mortgaging the house to purchase a concierge stateroom. But, if your budget has the room to allow it without taking anything else away from the cruise (i.e. – spa treatments, shore excursions, cabana rental, or even another cruise, etc.), I'd recommend giving it a try once just to see how you like it. It is perfection!
Concierge Pillow Menu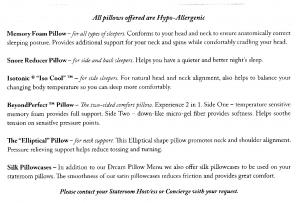 Disney Cruise Line takes luxury cruising to the next level with an innovative pre-arrival planning service and deluxe onboard offerings and amenities, available to all concierge guests.
Pre-Arrival Concierge Service
For guests who book a concierge stateroom or suite, the service begins before they even set sail. Disney Cruise Line Concierge Services Specialists assist in planning every cruise detail to perfection – whether a romantic dinner, an exciting Port Adventure (Disney Cruise Line shore excursion), an indulgent spa treatment, nursery care for little ones or dining room seating preference.
Concierge Services Specialists begin working with concierge guests 125 days prior to their sail date and are available weekdays via a toll-free number or e-mail.
Onboard Concierge Service
On cruise day, the concierge experience extends to the terminal where concierge guests have priority check-in and boarding at a dedicated check-in window. Onboard, they are guests of honor at a private welcome reception where they meet their Onboard Concierge Team and enjoy food and beverage offerings. Concierge guests are given a personalized itinerary for each day of their cruise and receive daily in-room amenities.
The personalized service continues with concierge service to arrange Port Adventures, specialty dining reservations, spa appointments, nursery care and ocean-side spa treatments in a beach cabana on Disney's private island, Castaway Cay. The onboard concierge team will also assist in planning special occasions and celebrations as well as arrange in-suite dining. Concierge guests also receive the benefit of priority tendering in ports of call, where applicable.
Concierge Suites and Staterooms
Concierge suites and staterooms on Disney Cruise Line provide the ultimate in comfort and luxury. Each is lavishly appointed and designed with upscale furnishings. Many connect to another stateroom, creating an exceptionally spacious living area for larger groups and families.
Each concierge suite and stateroom has a generous private verandah, living room and Blu-ray disc player(suites only) with an extensive library of titles available to borrow during the cruise. Living areas and master bedrooms have high-definition LCD televisions. All suites have at least two bathrooms and walk-in closets.
Concierge suite and stateroom bathrooms are designed with opulent granite and marble finishes and provide a selection of deluxe Elemis bath, shower and spa products. Other amenities include fine, 100 percent Egyptian cotton Frette bed linens, fluffy Frette feather duvets and sublimely soft bathrobes and slippers. Concierge suites' master bedrooms feature Sealy Posturepedic Premium Plush Euro-top mattresses and feather and down duvets.
To assure a restful, dream-filled night's sleep, a Pillow Menu is offered exclusively to concierge guests. Guests may choose from a selection of specialty pillows, including goose down, therapeutic memory foam, temperature balancing and snore reducing, as well as opt for silk pillow cases.
Disney Dream / Disney Fantasy
On the Disney Dream and Disney Fantasy, all suite and concierge stateroom guests enjoy the benefit of the ship's Concierge Level providing special amenities and exclusive access to dedicated areas.
A Concierge Lounge is located among the concierge suites on Deck 12. On the Magic, the lounge is located on Deck 10 and over looks the Quiet Cove. Guests may relax in quiet comfort, sip a cocktail, access the Internet, watch news on a large-screen TV and enjoy complimentary food and beverage presentations offered throughout the day, including specialty coffees and pre-dinner cocktails.
In the Concierge Lounge, the concierge service team provides personalized attention to guests, including reservations and assistance to help customize their cruise. Here, guests may borrow an iPad to use during their cruise and receive 100 MB of onboard Wi-Fi access. For children, Nintendo DS gaming devices (soon to be Nintendo Switch) are available to use throughout their voyage.
One deck up on the private sun deck, concierge guests can soak up the sun in an exclusive area. This private oasis offers comfortable, cushioned lounge chairs, complimentary suntan lotion, cool face cloths and a dedicated concierge pool deck host.
To learn more about Disney Cruise Line or to book a vacation, guests can visit https://disneycruise.disney.go.com, call Disney Cruise Line at 888-325-2500 or contact their travel agent.
Concierge compensation is 100% gratuity based. That is right…. 100%
Disney policy is any position that provides gratuity tickets is 100% compensated that way.
The Concierge Team is constantly working on your behalf and ready to serve. The list of services provided is almost endless. They are an extremely valuable part of your vacation. If sailing Concierge is a bucket list item and you are saving for this once in a lifetime trip, please budget for the concierge staff. Pampering comes at a price.
The below chart is based on what would be considered the standard gratuity. Gratuity amounts are always at the discretion of the guest.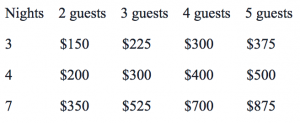 The lounge host and hostesses (maintaining the food and beverages) in the lounge are often forgotten. Recommend $10/day each so $20/day needs to be accounted for there.