Internet Access – source: http://disneycruise.disney.go.com/ships-activities/ships/services/internet-phone-services/
Connect@Sea will offer Internet packages based on what you do online. Instead of paying by the minute, you pay for the data you use. Connect via WiFi anywhere on the ship. Chat, post pictures on social media or simply stay connected while at sea.
For the most up-to-date information, please refer to the information in your stateroom.
Sample rates: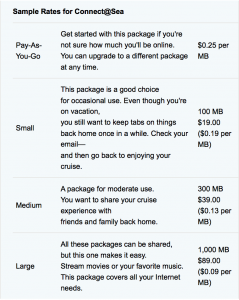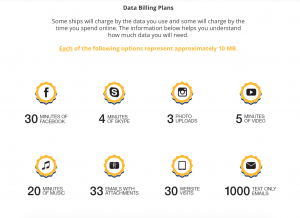 Note: Data packages are based on data consumption. The prices above are for example only. Prices are subject to change at any time without notice. Internet packages can be used interchangeably on mobile and computer devices throughout the ship. Unused data from a package will not be reimbursed, and it is not transferable between voyages or ships.
Instructions on how to minimize data usage for IOS and Android as provided by DCL Guest Services
Submitted by Lance Parcell
Android users:
Settings > Wireless & Networks > Data usage and tap on an app to find the option to Restrict app background data.
You also want to turn off data while roaming.
Settings>Wireless and network>Mobile networks>Data roaming (uncheck it).
IOS all versions: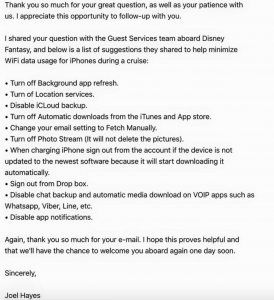 FREE WIFI? Location suggestions on where to get free wifi in some ports of call.
Submitted by Shaene Carson
San Juan Puerto Rico
Cafe Cuatro Sombras
St. John's Antigua
The Coast Restaurant & Bar
The Coast Nightclub
Island Beehive
Cheers Bar
Big Banana
Castries St Lucia
Caribbean Pirates Restaurant & Bar (Chef Robby's)
St. Georges Grenada
Sportsbar Grenada
Sol City Sports Bar & Grill Restaurant
CruisePort mall area
Polly's Ice Cream Parlor
Bridgetown Barbados
Italia Coffee House
Rituals Coffee
Grand Barbados Resort
TGI Fridays
NovelTeas Teahouse & Bistro
The Art Splash
Blakey's on the Boardwalk
Pirates Inn Hotel Restaurant
Side Shore
Chambers Restaurant & Wine Bar
Material Things
Basserette St. Kitts
Sweet Lime
Twist
KFC
---
Have other recommendations?
Email Paige Francis