Onboard credit needs a little explanation for those who are new to cruising. Most people just call it OBC and it simply money that is placed into your shipboard account by Disney Cruise Line or your Travel Agent. This money or credit can be used on your cruise for almost anything that you purchase while sailing. Here are just a few:
Beverages
Shore Excursions
Retail Purchases
Gratuities
Adult Dining
Spa Services
Internet Packages
So.. How do we get an OBC for our cruise? Basically there are three ways. First is if you book a future cruise onboard or a placeholder, Disney Cruise Line offers an incentive of $100 for cruises less than 7 nights and $200 for sailings of 7 nights or more. The second way is by receiving a booking incentive from a travel agent. Just a note of caution, not all travel agents provide a booking incentive and many vary. The third way is if you purchase or gift the credit to the stateroom as an amenity. So let's say my brother is sailing next month and I want to gift him $100.00 on the cruise. I call Disney Cruise Line and ask for an amenity of $100.00 be applied to his stateroom. I pay Disney and they send me an amenity confirmation. Or say I am sailing and want to add some cash to my onboard account. The same process will be used. An important note to all. If you do not use the OBC, it goes back to the account used to purchase it. So if it is from Disney, they keep the money. If it was applied by a travel agent, they will receive a refund. If you applied it with a gift card, it will be returned to the gift card.
You may ask how can a travel agent afford to give an onboard credit to their guests. Simply put, the agent is taking part of their commission Disney pays them and gives it to the guest as a booking incentive. OBC's vary by agent since their commission is tiered based on sales volume, agency policy and agent willingness to give the incentive.
Here is an example of how an OBC would work for my guests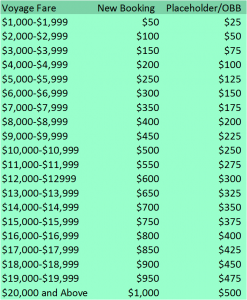 MSK
Mark Kechula, Cruising Specialist
mark@hihovacations.com or mark.kechula@gmail.com
(757) 777-8245