Palo the Spectacular! A Single, Hard-Working' Mama's Review
Contributed by DCG Member Michelle Paulson (thank you!)
As promised…… This Single, Hard Workin' Mama's Review Of PALO THE SPECTACULAR!!! (Which is what I'm petitioning they change the name to!)
This particular review is of Palo Brunch, which in my humble opinion, was absolute perfection! However, I've done their din din & I have only praise. Two honorable mentions for din din, first their Key Lime Martini's, which blew my socks off!!!! And of course, their Chocolate Soufflé!!!!! One of the most delicious things I've ever had.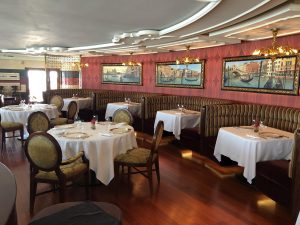 Now, the brunch……HELLO!!!! & COME TO MAMA!!!!! I took as many pics as I could without looking like some food porn stalker. From pastries, to crab legs, to Caviar to Caprese salad to mousse a go go! Ahh, but that's only the beginning. You see, as you feast on the buffet items, your trusty waiter will order crazy amounts of food to order for you including, but not limited to: lasagna, steak, waffles, omelettes, chicken parm, Eggs Benedict, and stuff I can't pronounce.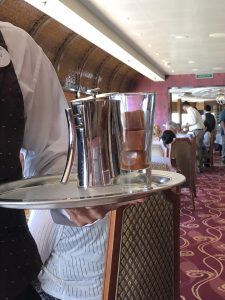 If you look closely at the pic with the glass on our waiters tray, you'll notice the ice cubes are brown. Do you know why??? ?
Insert Jeopardy theme song……????
I ordered ice tea, those are iced tea cubes!!!! How cool is that??!!!!
The restaurant itself is gorgeous and there is a pic of what I like to call, "The Wine Fortress." I'd love to get stuck in there all night.
They've added outside dining since the last time I was there. Pretty day, just too hot for those who came prepared to gorge themselves into a coma. After two & a half hours, I finally understood the plight of Weebles. They do in fact wobble, but don't fall down.
Superb job Palo! Ur my hero! ❤️ Palo Luv!