Private Excursion Review: Kuralu Catamaran Charter
Contributed by: Tara Ghiatis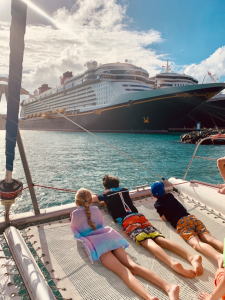 We spent the day in Tortola aboard the Day Dream, sailing with Kuralu Catamaran Charters. The Day Dream was just a short walk from the pier, and it was easy to find. Our all-girl crew, Captain Dee and First Mate Kate, were absolutely delightful to spend the day with. Their knowledge of the island's history and respect for the conservation of a place that they obviously love was tremendous. I can't forget to mention the kids' favorite crew member, Tillie, the puppy.
Our first stop was Norman Island, which was about an hour from the dock. While sailing, we enjoyed Rum Punch and soft drinks along with picturesque views of the Disney Fantasy, Queen Mary 2 and the gorgeous island of Tortola. We were provided with snorkel equipment as well as life jackets and noodles for both the kids and adults. It was our first time snorkeling with the kids, so we weren't sure what to expect. Dee provided instruction as to the best areas to see the best fish, and we all LOVED snorkeling! We saw hundreds of different fish and the kids had a great time comparing what they saw to the pictures on the table.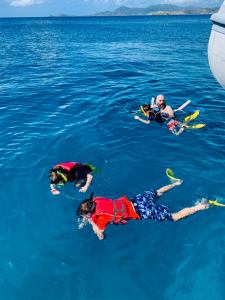 We spent the next portion of the day at the beach, where we were able to grab a snack and a famous Pain Killer from the beach bar. The service was excellent, and the beach was our own little uncrowded slice of paradise for the remainder of the morning.
After a delightful lunch, we were off to the caves for more snorkeling. Captain Dee told the story of the treasure that had been found in one of the caves and shared about the history of the area. The trip was carefully planned to ensure that our arrival would coincide with the departure of the large tour group from the ship, which goes to show the planning and attention to detail exercised by our crew. We snorkeled the caves and explored the area before heading back to Road Town.
Our day on the Day Dream was the first time we had done a private charter, and it did not disappoint! The Rum Punch was flowing, and a good time was had by all. What a gorgeous island and a day full of memories that will last a lifetime. Until next time, Tortola… Sea You Real Soon!
More photos here in a Facebook Photo Album on Disney Cruising Group's Facebook page: https://www.facebook.com/media/set/?set=oa.2046733715446884&type=3