Sailing with a Service Dog
Contributed by DCG Member Michelle Dutoit (thank you!)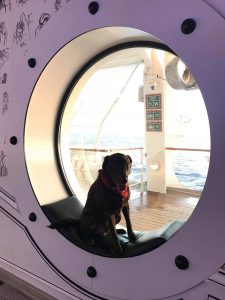 There is a lot to be considered when sailing with your service dog! This blog post is based on my experiences cruising with Disney Cruise Line. I've cruised to England, Scotland, Ireland, the Bahamas, Grand Cayman, and Mexico. Here is a list of things to do:
Research! Each country has different requirements for entry. Even if you don't plan to get off the ship, you must follow their requirements. For example, the Bahamas (this includes Castaway Cay) has a form that you need to fill out and mail in. Europe requires a pet passport and specific vet paperwork. England needs you to mail certain things to Heathrow right before you arrive. Then they will check the vet paperwork and scan for a microchip as soon as you land. Ireland requires the paperwork and a specific worming regimen. Grand Cayman has forms to fill out and send in, vet paperwork required, and you have to meet them immediately upon going ashore for approval. México is just the vet paperwork. It pays to do your homework. Failing to do so could get you put on a plane at your expense and sent home.
Contact your vet right away. Sometimes they have someone on staff knowledgeable about what other countries need. At the very least, get your appointment set. You will need USDA paperwork filled out within 10 days of travel. Don't wait until the last minute. Some countries may require extra meds administered by the vet. This could require multiple visits. Some countries also require your vet to fill out their paperwork. Some vets charge by the page for this. Do your research! If you miss something, it will cause problems.
Find your nearest USDA office and make an appointment. After the vet does the USDA paperwork, it needs to be certified by the USDA at their office…..within the same 10 day window. Keep your vet's number handy. If there is an error in the paperwork, the should be able to fix it and fax it to the USDA. Otherwise, you get to go back to the vet and then make a new USDA appointment. Be prepared to spend an hour or two at this appointment, just in case. Get this paperwork sent to Disney Special Services immediately!
Contact Disney Cruise Line Special Services. They need to know you are bringing a service dog on board. You will need to send them copies of any of the paperwork the countries you visit require. If you are getting a verandah room (I highly recommend this), request a potty box for the verandah. There will be one on deck 4 as well, but sometimes that's just too far away and the room is more convenient. They will usually also help with what other countries require in the way of paperwork for your dog to gain entry.
Make multiple copies of all the paperwork and certificates. Also make copies of your dog's rabies certificate, shot records, any training certificates (i.e., obedience classes), AKC paperwork, etc. You won't need it, but if you get challenged in other countries, more is better. Other countries have been known to require proof that your dog is a service dog.
Once on board go straight to guest services and take them a copy of the USDA paperwork and the paperwork required by the countries you are visiting. Keep a set of these in your backpack as well for when you leave the ship.
Register your dog with the IAADP. This is an international service dog association, and they do have stringent requirements. Their card can be helpful. TSA doesn't care about federal law and can challenge you on re-entry into the US. Some of their employees haven't been fully trained and do not want to be educated on the job. Having this card can make it easier to prove your dog is a Service Dog and avoid quarantine or other hold-ups. It has also come in handy in other countries. Carry it with you when you leave the ship.
Once you have your plane tickets, contact your airline. It always goes smoother when they know in advance you are flying with a service dog.
Three days before your flight, call TSA Cares and get an escort through security. This will help you avoid your dog coming in contact with any that TSA or the airport is using.
Train! It is helpful to start training your dog to a potty spot before you go. The spots are about 2 feet by 3 feet to 3 feet by 4 feet. The one on your veranda usually has sod. The one on deck 4 usually has shavings. However, the availability of materials at the port dictates what they use. Once we had huge bark chips instead. Farm supply store have the trays (big, black plastic trays used under animal cages) and shavings. You and your dog will be more relaxed if they know what to do with that potty spot. And you will have less accidents to clean up after.
Excursions. Again, research comes into play. Some excursions will not allow your service dog. Other countries don't have the same laws we do, so don't expect full access. Dolphin excursions, horse back riding, and snorkeling are a few that will have issues with your service dog. Also, if your dog comes into contact with other types of animals (like visiting a zoo), it could cause problems on re-entry into the US.
Access on board ship. Service dogs have access to almost all areas of the ship. They are not  allowed in the pools and splash zones. You can have them next to your chair outside of the pool, however. They are allowed pretty much everywhere else, including the dining rooms and theaters. You may not leave your dog unattended in your room or anywhere else on the ship, so if you are traveling solo, keep that in mind.
On Castaway Cay, they prefer the dogs not be in the water. The exception to that rule is if the dog must be near you to do its job. However, they are not going to allow the dog in the snorkel area and the dog must still be on a leash. I usually only let my SD get his feet wet at the adult beach to cool off.
---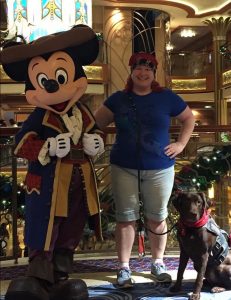 What to bring:
*dog boots – pavement can be hot, terrain can be rough. You may want these for certain destinations and excursions. Ruffwear has some great ones.
*food and water bowls
*food – bring an unopened bag to avoid problems with customs. Bring the smallest bag you can to accommodate food needs. I always leave behind whatever is left to avoid problems at customs.
*dog bed – a blanket, a bedroll, Ruff wear or Amazon (search for portable roll up dog bed) or something to make your dog more comfortable. I tend to avoid letting my dog on the bed, just so that housekeeping doesn't have to wash comforters and blankets after I leave.
*portable water bowl and water bottle for excursions
*poo bags – you will be cleaning up after your dog at potty spots as well as on land. Deck 4 usually has a diaper genie to put the poo bags in after clean up.
*wet wipes/sanitizing wipes – accidents happen be prepared. Or perhaps your dog didn't quite aim correctly on the potty spot. Ever way, you need to clean up.
*potty pads – useful in airports, or for soaking up pee if your dog doesn't quite aim right at the potty spot.
*toy – I always bring at least one, just as a comfort item for my dog and to allow us to play a little. Dogs need down time, too!
*vest – having your dog well marked helps in other countries. After a few days on the ship, sometimes I will switch to a Service Dog bandana during at sea days, just to give my dog a break.
*collars and leashes – whatever you use daily is fine, but be sure they won't get ruined if your dog gets wet.
*cooling bandana or vest or collar – for those hot destinations.
*backpack – to carry things on excursions
There is a lot do do before you go, but once you get onboard you will truly have a magical experience! The prep work is worth it! Many of the cast members on board miss their dogs and love seeing yours. Some will ask to pet, but none will do so without permission. Some will go out of their way to make sure you and your dog are comfortable and having a magical time.
Have a Magical Trip and Maybe we will see you on board!
Michelle and Hawkeye