Stateroom Categories: Explained
It's just as simple as booking a stateroom, right? As you start to shop for your next cruise, options abound and seriously confuse. Let's make some sense of 'all that is stateroom' on Disney Cruise Line.
There are four general stateroom categories: Concierge, Oceanview with Verandah, Oceanview and Inside. Within each category and within each ship, there are different options to choose from.
Inside (Categories: 10, 11)
Located on the Interior of the ship
No exterior views
*Dream/Fantasy "Magic Portholes"
Sleep 3-4
169-204 sqft
Oceanview (Categories: 8, 9)
One large or two small portholes
Exterior/ocean views
Sleep 3-5
204-241 sqft
Verandah (Categories: 4, 5, 6, 7)
Private balconies
Floor to ceiling windows
Sleep 3-5
246-299 sqft
Concierge (Categories: V, T, S, R)
Suites with balconies
Some with separate living/sleeping areas
Sleep 5-7
306-1781 sq ft
Concierge services
There are now six stateroom types: Standard, Deluxe, Deluxe Family, Deluxe Family Concierge, 1- or 2- Bedroom Suites, Royal Suite. Your family size and space preferences typically play a major role in selecting stateroom type. Listed below are the stateroom type differentiators:
Standard (Inside Category: 11)
Less space
Traditional bathroom
Deluxe (Inside Category: 10, Oceanview Category: 9, Verandah Category: 5, 6, 7)
Deluxe Family (Oceanview Category: 8, Verandah Category: 4)
Deluxe Family Concierge (Concierge Category: V)
Concierge service
More space
Sleeps 5
1- or 2- Bedroom Suites (Concierge Categories: S, T)
Concierge service
Split living/sleeping
Large balconies
Sleep 5-7
Royal Suite (Concierge Category: R)
Each ship has 2
Luxurious, spacious
Large balcony with private whirlpool tub (Dream and Fantasy)
---
What's the difference between a Category 4A and 4E? The letters A, B, C, D, and E generally distinguish where on the ship the staterooms are located, with the letter A being the most desired location, for example, midship on a higher deck.
---
But what about this Category 8A on the Dream & Fantasy? There are 12 of these rooms on each ship. These are different as they are larger than the average Deluxe Family Oceanview Stateroom, have a split room set-up BUT no split bath.
Example of Category 8A on Dream & Fantasy: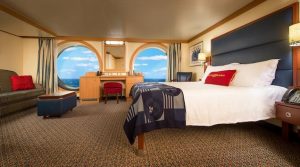 Category 8A Details by room: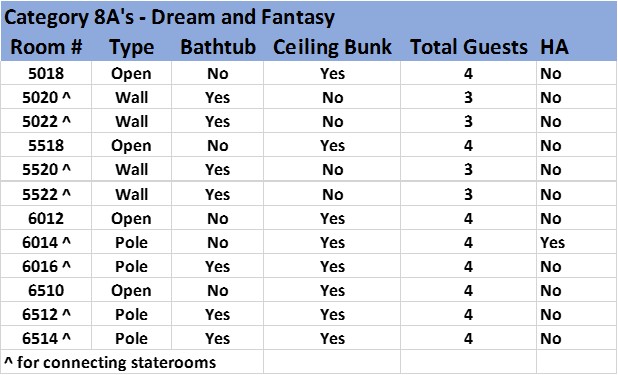 Check for DCG photos of 8A rooms here: http://disneycruisinggroup.com/stateroom-photos
---
Just to keep things interesting, there are a small number of very specific stateroom categories boasting distinct features:
Obstructed/Limited Ocean Views: These rooms have portholes with – you guessed it – partially obstructed views. These rooms are less expensive than their unobstructed-viewed counterparts. Found: Oceanview Category 9C and 9D on the Disney Dream/Fantasy
Oversized Verandah Rooms: Extra balcony space and people rave about these staterooms in our Facebook group discussions. Found: Verandah Category 4E and 5E on the Disney Dream/Fantasy
Navigator's Verandah: Enclosed verandah with open air porthole. Found: Verandah Category 7A
Whitewall Verandah: The verandah has a solid white wall from deck to railing instead of the standard clear view throughout. Found: Verandah Category 5E, 6A, 6B
---
Booking with Restrictions? We Got You
IGT = Inside Stateroom with Restrictions
OGT = Outside Stateroom with restrictions
VGT = Guaranteed Oceanview Stateroom with Verandah
When booking these restricted-fare category staterooms, please note the following:
New bookings only. Existing reservations cannot be modified to these new categories.
You are reserving a stateroom within the selected stateroom type: Inside, Oceanview or Verandah*.
Disney Cruise Line will assign your specific stateroom at a later time, based on remaining availability.
Specific stateroom requests will not be accommodated.
Full payment is required at the time of booking for all Guests and is non-refundable.
Sail date and stateroom category changes are not permitted.
The stateroom offer cannot be combined with any other discounted or promotional offer.
Full legal names of all Guests are required at time of booking and no name changes are allowed.
* Most Verandah staterooms include a private verandah with a clear plexiglass wall; some may include a solid white wall depending upon location. A limited number of Oceanview and Verandah staterooms may include a partially obstructed view.
GTY
Selecting "Choose Guaranty" guarantees the ship, sailing date and rate. A Category XXX stateroom will be assigned by the time documents are received. Selecting "Choose Guaranty" does not guarantee the stateroom will be on a particular deck or, for multiple staterooms, that the staterooms will be located near each other.
GTY reservations have no restrictions as it is a normal booking.
Same rules apply as they do to any booking that has an assigned stateroom.
**Also note that you can be assigned an accessible stateroom without a split bath.
Official DCL link: https://disneycruise.disney.go.com/faq/staterooms/stateroom-categories/